https://twitter.com/MorningNewsTV3/status/435610500345233408/photo/1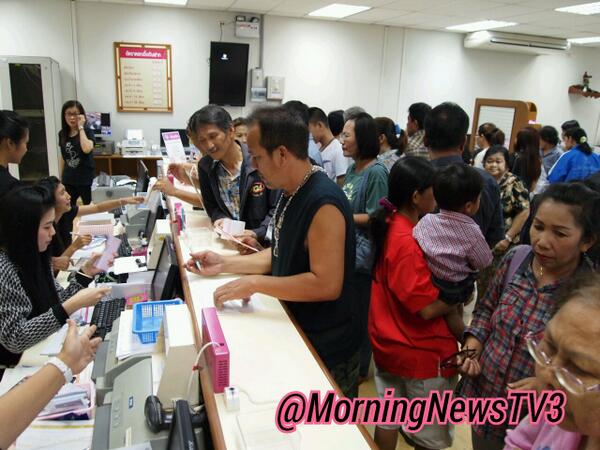 Kazakhstan
Kazakhstan's central bank is appealing for calm as rumors that some financial institutions are in trouble following last week's currency devaluation have provoked a run on three banks.
On February 19 the National Bank sent text messages to the public urging people to disregard the "false information" and not succumb to panic.
"All Kazakhstani banks have sufficient funds in national and foreign currency," the messages read; people should not submit to "provocations" and "keep calm."
Large queues formed at some banks in the financial capital, Almaty, for a second day on February 19 as ustomers rush to withdraw funds, fearing a bank collapse.
And just a bit more on the apparent suicides:
Sunday, Jan. 26:
London police found William Broeksmit, a 58-year-old former senior executive at Deutsche Bank AG, dead in his home after an apparent suicide.
Monday, Jan. 27
: Tata Motors managing director Karl Slym
died after falling from a hotel room in Bangkok
in what police said could be possible suicide. Slym, 51, had attended a board meeting of Tata Motors' Thailand unit in the Thai capital and was staying with his wife in a room on the 22nd floor of the Shangri-La hotel. Hotel staff found his body on Sunday on the fourth floor, which juts out above lower floors.
Tuesday, Jan. 28
: a 39-year-old JPMorgan employee
died after falling from the roof of the European headquarters of JPMorgan in London.
The man, Gabriel Magee, was a vice president in the investment bank's technology department, a source told WSJ.
Wednesday, January 29:
Russell Investments'
Chief Economist Mike Dueker was found dead in an apparent suicide.
Police said it appears Dueker took his own life by jumping from a ramp near the Tacoma Narrows Bridge in Tacoma, Wash., AP reported. According to Bloomberg, Dueker, 50, had been missing since Jan. 29, and friends and law enforcement had been searching for him.
The week before, a U.K.-based communications director at Swiss Re AG died. The cause of death has not been made public.
Monday, February 3:
37-year-old JPMorgan Chase & Co executive director who died from unknown causes Feb. 3 appears to be the latest in a series of untimely deaths among finance workers and business leaders around the world in the past three weeks. Ryan Crane, a JPMorgan Chase & Co. employee who in a 14-year career at the New York-based bank rose to executive director of a unit that trades blocks of stocks for clients, died in his Stamford, Connecticut, home.
Tuesday, February 18:
33-year old JPMorgan forex trader is the latest in a string of suicides to take his life in Hong Kong.