I have virtually been glued every night watching live feed on the net from different sources in Ferguson. You would be amazed at how many people don't know what is going on in Missouri. Maybe because I had just come back, slept not more than 5 miles from that area a month ago, that I instantly focused most of my attention of this breaking tragedy.
I looked through photos, noting which made headlines. I even asked, who was the guy with dreadlocks. Why were all the media surrounding him, taking photos like it was a photo op?
It paid off...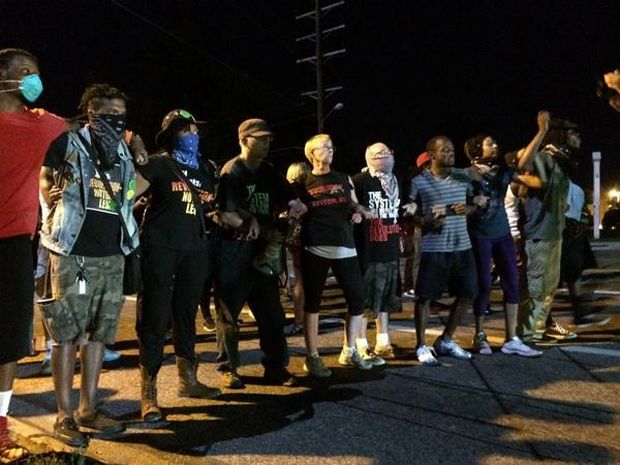 This is the group bussed in from Chicago.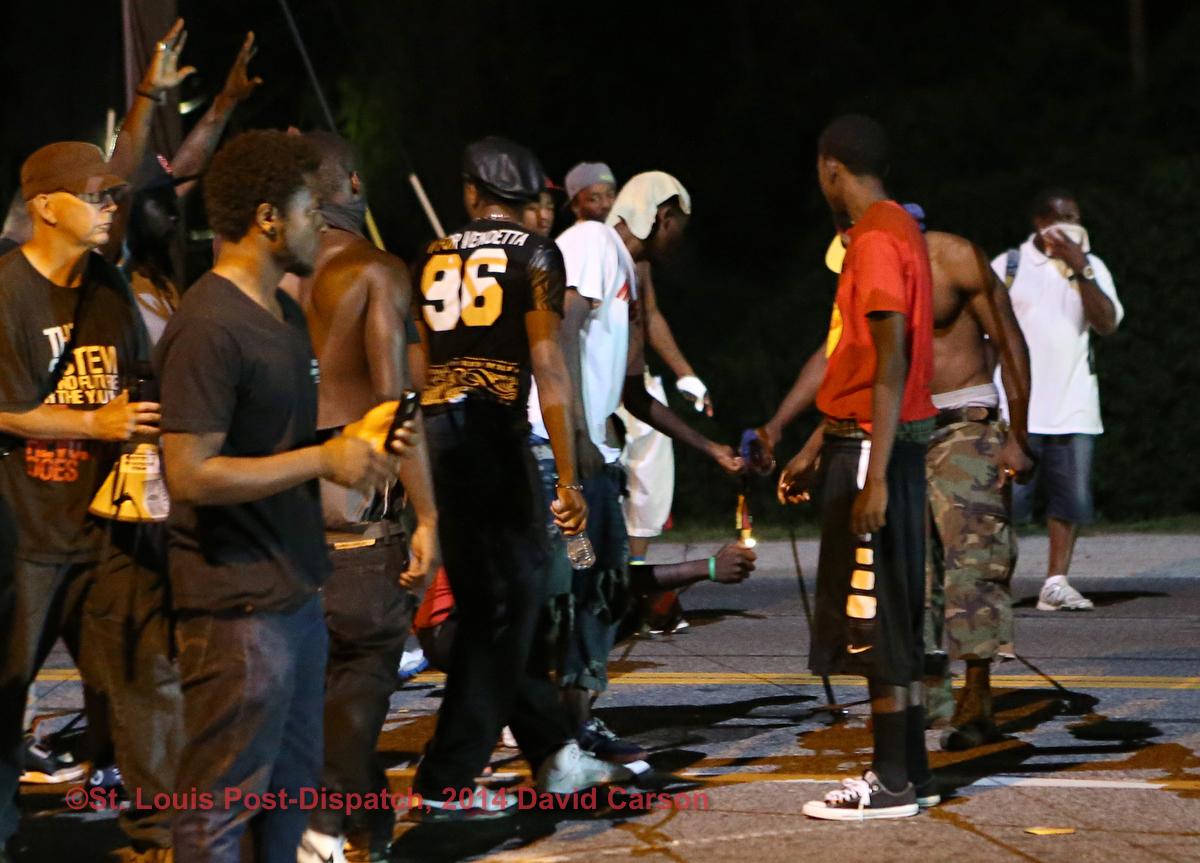 Who wouldn't noticed the one white guy?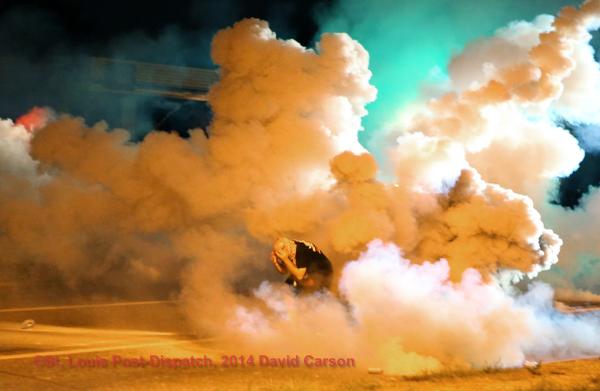 Here he is again in the iconic photo of him throwing back the tear gas container
Video of him in California
An article written about the communist group he is apart of, and pictures of his group lighting molotov cocktails
United Patriots
Tonight, I watched as the crowd once again protested peaceably...that is until all of a sudden there was a rush of people heading down towards the police, one man on a bullhorn working the crowd up, trying to incite violence. It was the white man in the photos above.
Now that I had a name, I could look him as well:
Here is in an article of him being interviewed back in July of this year: Talking about Flag Burning
Link
Joey Johnson
Gregory Lee Johnson is an American Revolutionary Communist Activist, famous for his part in the landmark Supreme Court case Texas vs Johnson, which handled the issue "Is burning a flag a violation of the First Amendment?" In 1973 to 1976 he was a member of the United States Merchant Marines, and traveled to places like Panama and Mexico and saw the influence the U.S had on other countries first hand, which led him to join his communist club. After the case, Johnson eventually became the nation spokesperson for the American Revolutionary Communist Activists. On October 14th Johnson was arrested after he and two others had themselves chained to the doors of the door
William Kunstler
William Kunstler was a controversial lawyer from the mid 1950s to his death in the mid 1990s. He was famous for being a civil rights activist, with famous civil rights leaders such as Martin Luther King Jr. and Malcolm X being clients of his at times. Often controversial, Kunstler has been a prosecutor in the American Indian Movement, and defending Omar Abdel-Rahman, the man responsible for the car bombing of the world trade center in 1993. In Texas vs Johnson, He represented Joey Johnson and won the case.
Someone needs to tell Ferguson that this man and his group from Chicago are NOT fighting for their rights as American. There are there to push their own communist agenda.
And as a side note on that subject...This makes yet one communist group that have backed all of the major protests we have seen in America, including Occupy Wall St.